(Click here for Lesson Contract.)
We specialize in riding lessons in Dressage, Jumping lessons for all levels, from Beginner to Advanced riders.
We have students from all over the area: Twin Cities, Lino Lakes, Blaine, St. Paul, Hugo, Chisago City, Marine on St. Croix, Scandia, Forest Lake, and Lindstrom to name a few!
"Sunborn Stables has been a wonderful place for my daughter to continue her dressage training and begin to develop her jumping skills.  The trainers are all highly skilled, friendly, focused on safety and personal growth.  The staff has provided excellent care for our horse since day 1 and has truly taken the time to understand and fulfill the needs of horse and rider.  We are very happy to be at Sunborn and strongly recommend the stable to others who share a similar love and passion for the sport." -Sue Rowen
---
Riding Lessons at Sunborn Stables
We specialize in developing a correct AND BALANCED seat for the good of horse and rider. In addition to our regular lessons, we also offer lunge line lessons. Riding on the lunge line is a great way to work on your position, technique and balance without the added concern of handling the reins and controlling the horse. It simplifies and clarifies things and helps you build habits of using your body to control the horse instead of your hands. All lessons are "seat" lessons, in that we believe it is only through the cultivation of a good seat that the rider learns to influence the horse with finesse. We also help you us use your newly developing "seat" to practice a variety of movements and school figures as you learn to put the pieces together.
What Children Learn — Riding at Sunborn Stables:
Child development experts often tout the benefits of helping children experience the "BIG-M: Belonging, Independence, Generosity and Mastery." Riding does all this and more. Students get a big sense of belonging to the stable and often make life-long friends here. Most parents and students agree that riding has helped the riding student develop responsibility, compassion, empathy, self confidence, fairness, leadership, strength, self-reliance, and more.
We recommend that children begin lessons at 7 to 8 so that they are a bit older and stronger, though we will teach students as young as 6.
Adults often learn:
A fascinating study of the ins and outs of horsemanship through the eyes of history! This fabulous discipline has been around since 500 B.C. and has been studied by people all over the world. Riding at Sunborn Stables positions you to go anywhere — from Western ranch, to English countryside, Italian trails, or Spanish equestrian schools, and do well (our students have done these trips and say they were well prepared)! We'll begin where you are and take you to heights you never dreamed possible!
Adults can begin lessons at any age! We have had a 64 year old beginner.
Taking lessons and goal-setting go together. Often students set goals of achieving something at a horse show.
Students frequently show their horses at dressage shows. Scroll down to see the picture of 2nd Level Regional Champion, 2007, Layne Sandercott, handing her walkie-talkie to trainer, Julie Penshorn just before her winning ride at the Regional Finals in St. Louis, MO.
In 2008 Layne rode her two other horses with much success as well. (Read about our Successes!)
Also, we have many students who do not show, or only show at the in-barn schooling shows.
The teachers work together to develop their abilities to "see" students' problems and capabilities. They frequently "team teach" with each other. Teachers also work with the students to set goals and work toward meeting them. One student may just want to develop self-confidence and courage, while another wants to go to the Olympics!
Since this sport is still more art than it is science — even after thousands of years (the first writings on dressage are from around 500 BC!) — teachers must work hard to clearly describe the specific postural nuances necessary for success with a given horse (whose needs are always considered important). We gain a lot of information by listening to the horse as he or she tells us what you are doing wrong and right. We also listen to you! Each person has a unique physique and more or less difficulty with each thing they learn. So, we work to help you gain better spinal alignment and lateral and longitudinal balance so you and your horse can become an effective team. This postural alignment serves our students well as they take their learnings off the horse and incorporate them into their daily lives.
Read testimonials from happy clients!
---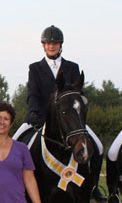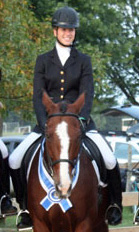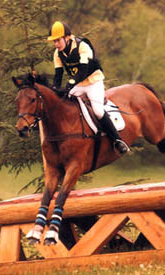 Hannah Hathaway, left and Libby Faffler middle and Sam Michaelson are some of our students now teaching.
Sunborn Stables prides itself on having high-quality instruction for all levels of riders. All our teachers have at least 7 years of experience riding and training. Mary has been teaching at Sunborn Stables since 2001 (I think — who can remember that far back?!!). Jill has been here for 6 years and Hannah has been here since she was 6 years old! Libby has been a student for about 7 years and Sam has been riding here since she was 11.