(Click here to view Training Contract)
Training at Sunborn Stables
Owner shall pay the Trainer for professional services and board as described below, the fee is $50 per ride, for training. Owner also shall pay board at the Farm's rate of $450 for a stall and $300 for paddock/pasture board per month. Do not skimp on training. You do get what you pay for — and here you get a lot!
Training: We specialize in reconditioning and retraining the badly trained dressage and eventing/jumping horse. Most problems arise from riding front to back instead of back to front. Bring your horse for an analysis and see what you could be missing. Most trainers don't ride and think from their own sense of feel and the seat of their pants. Instead, they ride from book learning and lessons alone, without enough time to just feel and process their learning on their own. Julie learns from her horses. Yes, of course, much formal education as well, but she is a true horse whisperer. She listens when they whisper, so they can listen when she whispers. Experience it!
---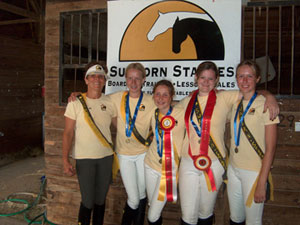 This Sunborn group competed in Mason City at the dressage competition in 2006 and won the team competition, and two reserve champion regional medals.
(From Left: Julie, Jessica Johnson, Layne Sandercott, Jessica Hanson, Sam Michaelson)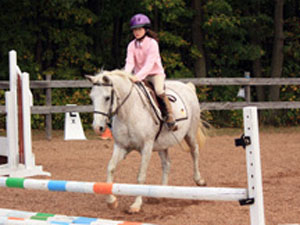 But we don't just cater to the serious riders! We love beginners too. Here is one of our school horses with Alicia St. Germain.
Don't they have fun!?
Sandy Olson (left) and her teacher, Mary Gmitter Johnson (right) pose with their buddies Cooper and Navello.
---
Dona, 12y.o. Danish Warmblood mare ridden by Julie while she was in Denmark horse-shopping. Effective, correct riding goes around the world! And well-trained horses are always fun to ride!
Cedrick, 12y.o. Hannoverian gelding shown here when he was just beginning to be strong enough to do good collection. When he came to us, his back was flat and tight and we spent a year with physical therapy (lots of massage, and some medical procedures) to help him be able to do the work he was knowledgeable enough about, but not physically capable of doing, because of years of flawed dressage training. You'll see the shoulder-in still lacks bend and some of the work lacks thrust and schwung, but this horse was a good boy and ultimately was sold a customer (of Paul Belasik) located in India. Hope you're doing well, Cedrick!
---
Reina del Sol, 8y.o. Friesian/TB mare I've trained for years. This is a lovely lady and she is for sale. (Link to sale page)
Summer's Prince, 8y.o. Friesian/Morgan who has just been purchased by a customer in Texas. Good luck Prince!
---
Big Boy (Royal Blue), This was a sales video for this horse who I think is 8 in this video. He was a bit long and heavy for the collection, but a very good boy! My son had a gas eventing him when the horse was 5. He's almost a second level horse here. I never showed him at second level, but he was a very successful training and first level horse. He's now living on the East Coast and enjoying the sunshine.
Big Boy Jumping. Most of my horses do some jumping and some dressage. We try to sell them for the discipline they are most inclined for. This guy was awfully willing, as you can see we just hacked out in my dressage saddle to do this video!
---
Somerset, 4y.o. OTTB gelding is a very talented fellow who now lives in Colorado w/ his new owner who is successfully eventing him. This was taken after about 4 or 5 months of work here.
Comet, 10y.o. Danish warmblood I imported. He worked here until just about third level and then he was sold to a customer in Ohio. She's been very happy with Comet. Good luck Comet!
---
Clever,5y.o. OTTB gelding is a half-brother to Somerset. He was sold to a customer in Iowa.
Comet, 10y.o. Danish warmblood I imported. He worked here until just about third level and then he was sold to a customer in Ohio. She's been very happy with Comet. Good luck Comet!