Welcome to Sunborn Stables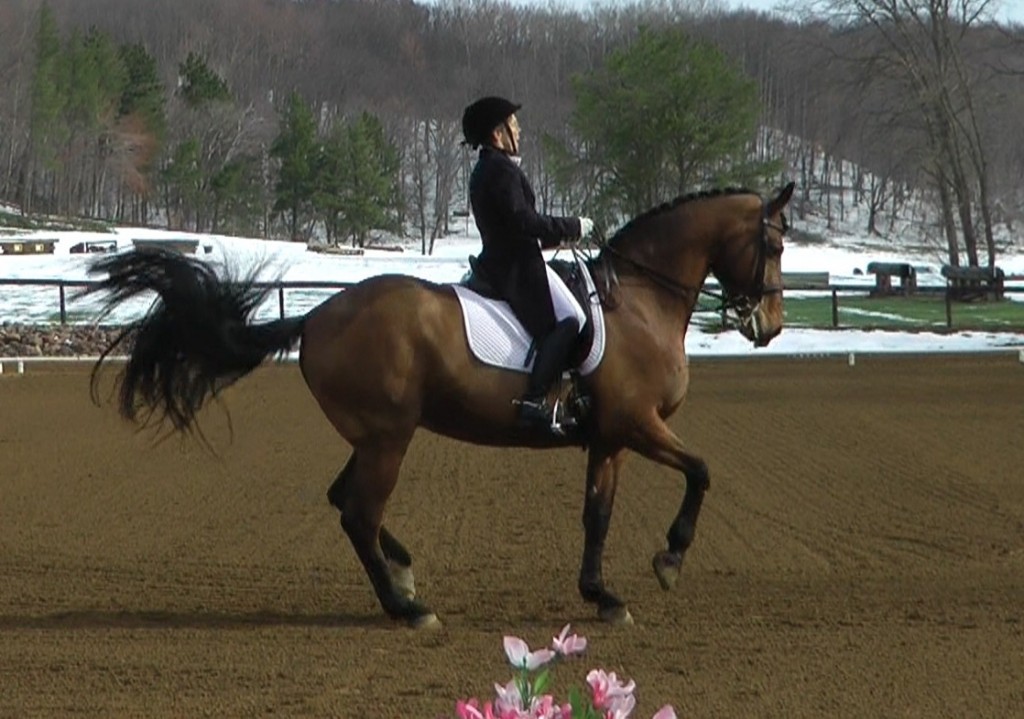 Read testimonials from happy clients!
Contact us by email at sunborn@sunbornstables.com        
---
Sunborn Student Profiles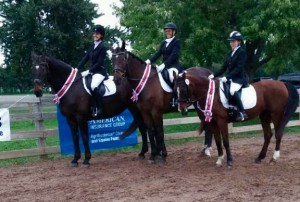 Stephanie with Reina del Sol and Amanda with KT Artist Rose with trainer Julie Penshorn took second place in the team competition at the CSDEA Fall Festival 2016.
Sunborn Stables features a comprehensive dressage and eventing education where time-honored traditions meld with new approaches. We train according to the principles of the USDF Training Pyramid and also help riders explore a step-by-step process for working the horse with that pyramid in mind! We believe both horses and riders have to continually develop their fitness and their overall core strength and tone, while they develop specific skills. Our dressage riders become disciplined and creative artists who not only look good on a horse but can enhance the natural beauty of the horse. Perhaps most importantly, our riders develop the versatility and skills to ride any type of horse.
Founded in 2000 by Julie Penshorn, a United States Dressage Federation Certified Instructor and Trainer, Sunborn Stables has two additional teachers and a fabulous working environment. The footing is perfect, and the preparation area is warm!
Riding is a wonderful, comprehensive, experiential activity that improves balance, agility, and strength. It's a unique opportunity to experience teamwork with another living being! With riding, people get what they need. For example, children often develop their responsibility, empathy, self-discipline, self-confidence, respect, courage, and sense of fairness, while adults often say they feel more confident, have gained strength, and have fun! (Go to "Lessons" for more information.)
---
NEWS!
Coming soon to Sunborn Stables. . . Larkshill Magnifique -OLD, a lovely Oldenburg mare from Belgium. After a lengthy domestic and European search, rider Stephanie Neumann, and trainer Julie Penshorn came home from Europe with this gal! She should be quite a fun project for Stephanie's future! Watch for her!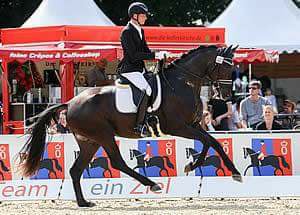 Older News:
Kingston Esquire, owned by Stephanie Neuman, with rider Julie Penshorn was Champ at 1st level. The two had the second-best score of the show with a 71.4%.  Stephanie Neuman with Reina del Sol was Reserve Champ at both 2nd and 3rd level (amateur owner). Amanda Cristofono was Reserve Champ with Dash of Fame at 1st level JR and with KT Artist Rose at 2nd level, Jr. Sunshine, owned by Kelly Montgomery and ridden by Julie Penshorn ended their season in grand style scoring a 64.1% in the Grand Prix and were Reserve Champs for the Intermediare/ Grand Prix grouping.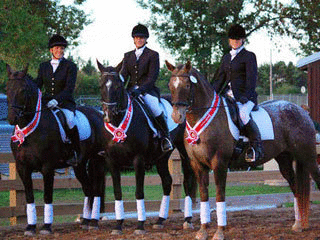 Loki and Julie Penshorn at Bill Wood's clinic, 2011