Sunborn Stables serves a wide geographic area, as people from as far away as St. Paul, Minneapolis, Eagan, Cambridge and Hudson value the education and facilities enough to do the drive.
We primarily serve the cities of Chisago City, Lindstrom, Blaine, Lino Lakes, Hugo, North Branch, Wyoming, Shafer, Taylors Falls, St. Croix Falls, East Bethel, Osceola, Scandia, Center City and Stillwater.
We are a full service boarding facility with both stall board and pasture/paddock board available.
We teach lessons to beginners through advanced riders.  We have both FEI level riding instructors and patient beginner teachers! We have a USDF Certified lead instructor.We teach the principles of centered riding, and classical dressage. We also have USEA approved jumping Instructors and eventing instructors.
Instructor Development:
Struggling with your teaching? Want to really learn a methodical way to work with students from beginner to advanced rider? Check out our Instructor/trainer programs! We will come to your barn and help you become a better teacher! Instead of stealing your thunder, like regular clinicians, Julie will work privately with you to improve your skills as a teacher, helping you with every aspect of your educational process including: dealing with difficult horses/people, improving your own skills (your lessons will be private), developing trust with horses and riders, confidence building, riding through, riding forward and other essential aspects of your riding program. In this hands-on program, you will be the clinician and Julie will be your private coach, whispering in your ear as you teach and helping you really SEE what is going on in horse and rider and where best to find the short and long term solutions.
Clinics:
At our barn or yours. Clinics always focus on riding forward and through. Learn how to listen so your horse can whisper and how to whisper so your horse can listen! Clinician, Julie Penshorn, spent years as a Western trainer and learned from the best cowboy trainers. During the past 40 years she has integrated past learning with her love of dressage and eventing, becoming a teacher who has earned a great deal of respect for the horses she trains and the students she produces.
We specialize in reconditioning and retraining the badly trained dressage and eventing/jumping horse. Most problems arise from riding front to back instead of back to front. Bring your horse for a free analysis and see what you could be missing. Most trainers don't ride and think from their own sense of feel and the seat of their pants. Instead, they ride from book learning and lessons alone without enough time to just feel and process their learning on their own. Julie learns from her horses. Yes, of course, much formal education as well, but she is a true horse whisperer. She listens when they whisper, so they can listen when she whispers. Experience it!
DVD analysis and long-distance teaching always available!
---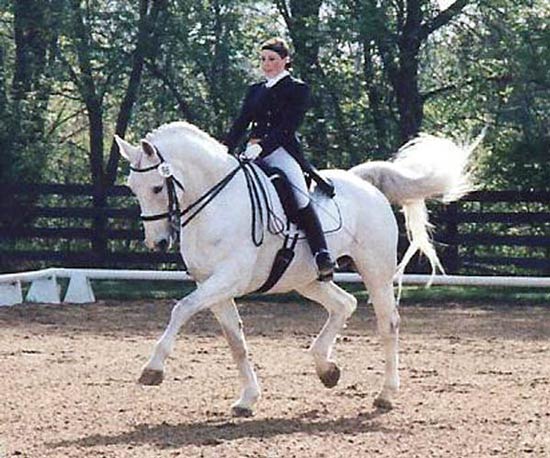 Layne Sandercott and Navello during a 2008 Young Rider's test.
(Bummer about the hat flying off!)